Hiking Trails
Main Content
Hiking at Touch of Nature
We encourage all participants to adhere to Leave No Trace principles. Our hiking trails are designed to increase environmental awareness, appreciation and stewardship, while offering learning experiences in natural resource education, nature interpretation and resource management.
Contact our talented staff if your group, class or school would like an interpretive hike along any of our hiking trails.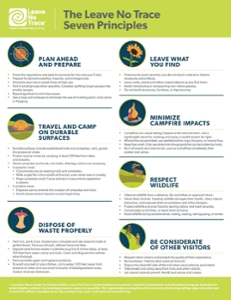 Our multi-use trails pass through some beautiful scenery at Touch of Nature. The Catalyst Trail for instance, offers great access to rock outcrops and formations along Indian Creek. Cyclists, please remember to yield to hikers on designated multi-use trails. 
Hiking Only
Some trails at Touch of Nature are for foot traffic only.  Hiking difficulty is easy to moderate. 
The Lakeview Trail connects Camp 1 to Camp 2 and winds along the west side of Little Grassy Lake. After a stroll through Camp 2, the trail continues at a trailhead located at Camp 2 Beach where it continues to Rocky Ledges.    
Interpretive
The southern section of the Lakeview Trail starting at Camp 2 Beach includes interpretive signs. This section is ideal for groups to schedule a program with our staff who tell the story about the natural history, flora, and fauna one can find along Little Grassy Lake and in Southern Illinois.
Contact Touch of Nature at 618-453-1121 or email ton@siu.edu to register your group.