Mountain Bike Trails
Main Content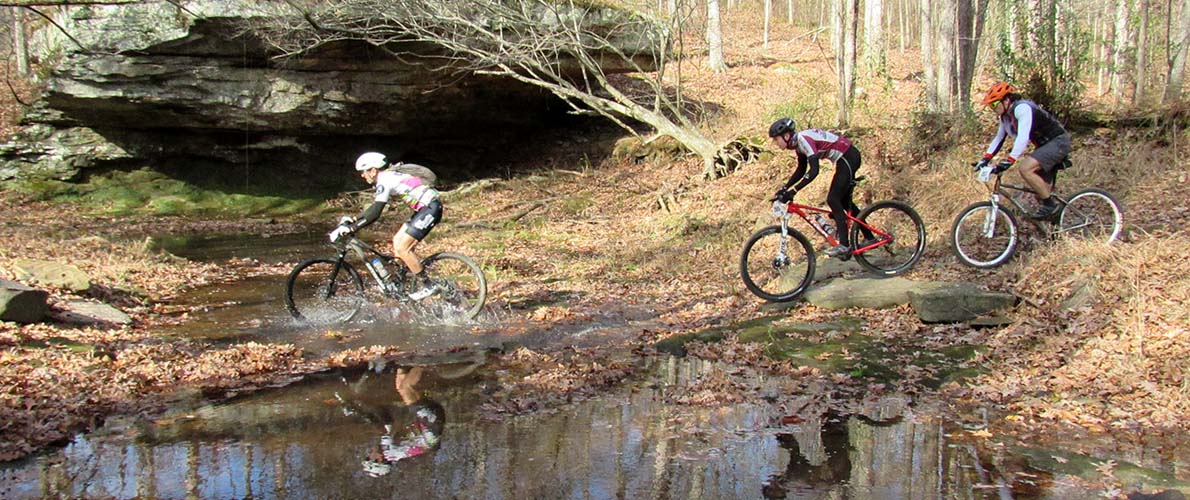 Touch of Nature Trails
Touch of Nature Trails were designed and built with these core values in mind:


Community - Promote healthy active recreational lifestyles that can benefit all members of the community.
Family - Inspire our families to explore the outdoors and engage in positive, healthy activities.
Stewardship - Encourage our customers and the community to be responsible outdoor recreationists.
Trails are open daily from dawn until dusk.
Lodging options available for overnight trips.
Trail System & Specs
Trail Safety and Rules
Trail Etiquette
Events
Donate Now
Our bike trails include 10 miles of beginner (green) and more difficult (blue) traditional and mountain bike optimized trails. They are an interconnected system of trails, providing access from a new trailhead at the main entrance outwards.
2.75 miles of green trail includes lake views and gently rolling Shawnee Forest
3.2 miles of blue trail provide a great introduction to the Catalyst
3.3 miles of blue/black trail that takes riders into beautiful Indian Creek area
View our Mountain Bike Trail Map and Conceptual Plan.
---
Trail Specs - 9.14 miles

Green Trails - 2.72 mi total
A Connector - .39 mi
B Connector - .35 mi
C Connector - .23 mi
Green Bean - .44 mi
String Bean - .66 mi
Beaver Fever - .65 mi
Blue Trails
- 3.14 mi total
Volunteer Track - 2.06 mi
Sweet Baby Ray - .47 mi
Mulligan - .21 mi
Yellow Jacket - .40 mi
 Blue/Black Trail - 3.28 mi total
Kids Terrain Track
The Alan & Pat Rausenberger Kids Terrain Park located at SIU's Rushing Field includes a kids pump track, a kids strider track, and a quarter mile easy skills loop. 
Membership
Make a donation for an Annual Trailhead Parking Pass and Touch of Nature Membership.
Volunteer
Help us build our trails!
Volunteers are needed to assist in building the mountain bike trails. Community service and Saluki Volunteer Corps and Environmental Ambassador Award hours are available for volunteers, and community is always welcome.
Donors
We want to express a very special thank you to all of our donors that helped make our Mountain BikeTrails possible.
Gold Level
The Rausenberger Family
Recreational Trails Program Grant and IDNR
E.T. Simonds
Silver level
SIU Student Green Fee
Bronze Level
Rotary Club of Carbondale-Breakfast
Dirty South Roubaix 100K Gravel Road Race
Bike Surgeon of Carterville, IL
Interested in partnering with Touch of Nature?
Learn more about our sponsorship opportunities.