Lodging
Main Content
Touch of Nature is a beautiful, peaceful setting ideally suited for nature study, recreation, reflection, or just relaxing. Giant City State Park, Crab Orchard National Wildlife Refuge, the River to River Trail and the Shawnee National Forest border our 3,100 acres.
Little Grassy Lodge
Nestled in the woods, this attractive facility can accommodate 36 people in 18 rooms. These rooms all have private bath rooms, air conditioning/heat, flat screen TV with satellite, and a four-cup coffee maker. 14 rooms have two twin beds, two rooms have two double beds and two rooms have one queen bed. Each twin room can sleep two people. Little Grassy Lodge also has free Wi-Fi in the building.
L.B. Sharp Lodge
L.B. Sharp can accommodate up to 18 people in five rooms. There's a "leader" room with two twin beds and a private bath. The other four rooms have two bunk beds each and can sleep up to four people. This lodge has one shared bathroom for the four bunk rooms. It has a large lounge area, and has an indoor and outdoor fireplace. 
Shawnee Lodge
Shawnee Lodge has double occupancy accommodations for up to 22 people. There are 11 rooms that share two common bathrooms. Room one is a "leader's" room and has two twin beds with a private bathroom. The lounge area has an indoor and outdoor fireplace.
Morris Lodge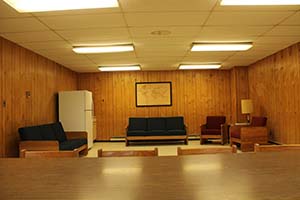 Morris Lodge has double occupancy for up to 18 people in nine rooms with two twin beds. There are two common bathrooms and a large comfortable lounge area.
Cabins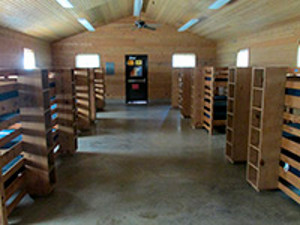 Cabin accommodations are available throughout Touch of Nature. These are bunkhouse style buildings with bunk beds. The number of beds depends on the size of the cabin and varies from six to 24 people per cabin. The cabins have only beds and electricity, no running water. The cabins do not include linens. Most groups bring their own sleeping bags and towels. The cabins have access to shower houses with bathrooms and shower facilities. Between our two camps, the cabins can accommodate up to 250 people.